Jay Neugarten DDS, MD, FACS
---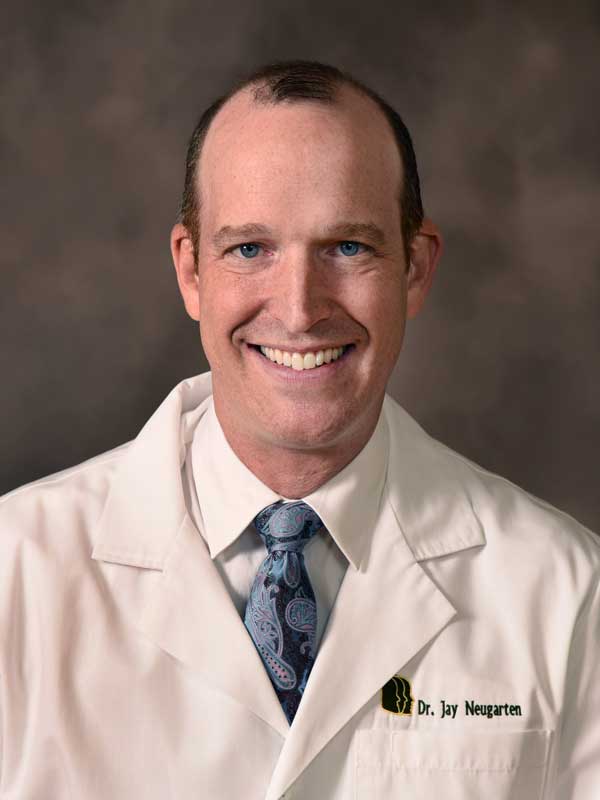 ---
---
Dr. Neugarten is a graduate of the Columbia University School of Dental and Oral Surgery, where he was named class valedictorian and earned membership in the national dental honor society, Omicron Kappa Upsilon. He completed his residency at North Shore University-Long Island Jewish Medical Center, and earned a medical degree from the Stony Brook School of Medicine.
Dr. Neugarten is the oral and maxillofacial surgical member for the craniofacial team at New York Hospital Cornell-Weil Medical Center. He is a nationally known specialist in oral and maxillofacial surgery, whose areas of expertise include working with patients requiring both complex implant and bone-grafting construction, as well as with those whose skeletal facial and craniofacial deformities require corrective jaw surgery and distraction osteogenesis, from neonate to adult. His other areas of specialization include Temporomandibular Joint (TMJ) Reconstructive Surgery, Dentoalveolar and complex Reconstruction Surgery using the most advanced surgical technology.
Dr. Neugarten is a fellow of the American College of Surgeons, an educational association whose physicians must pass a set of rigorous qualifications for membership. He is an associate clinical professor at both New York Hospital Cornell-Weill Medical Center and North Shore University-Long Island Jewish Medical Center, where he is an active educator of oral and maxillofacial residents.
Dr. Neugarten lectures both nationally and internationally on a variety of topics of oral and maxillofacial surgery. These topics include Distraction Osteogenesis from the neonate to the adult patient, Implant Reconstruction, Orthognathic and Craniofacial Surgery.
Dr. Neugarten's attention to detail and philosophy of providing quality care to his patients with the least amount of surgery has earned him trust from patients and confidence from referring doctors.