Dental Implants in NYC
At NYCOMS our goal is for our patients to enjoy a fully functional and aesthetically pleasing outcome resulting in restored confidence and restored quality of life.
This is what we always strive for. Some patients have sufficient bone to support implant placement and are able to go right to traditional implant therapy and begin constructive work, while other patients may need zygoma or grafting prior to implant placement, but, regardless of the restorative therapy route, our goal is to help each individual achieve a functional and beautiful outcome.
---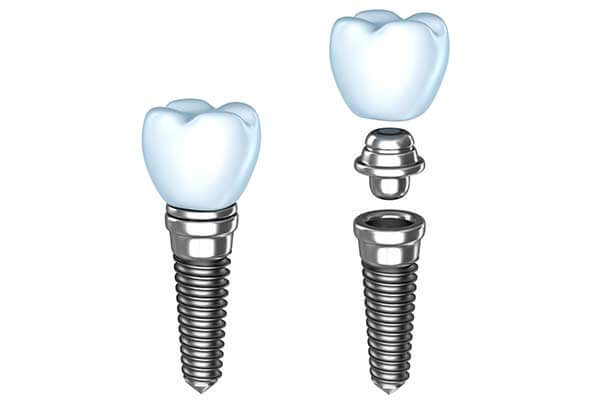 ---
Dental implants replace tooth roots in the mouth. Implants provide a strong foundation for fixed or removable replacement teeth. Dental implants, which are placed in the jawbone, are small anchors made of a biocompatible metal called titanium. The anchors begin to fuse with the bone over the course of a few months. After the fusing process, known as osseointegration, abutment posts are inserted into the anchors to allow for the permanent attachment of the replacement teeth.
---
Full Arch Restoration (Fixed)
---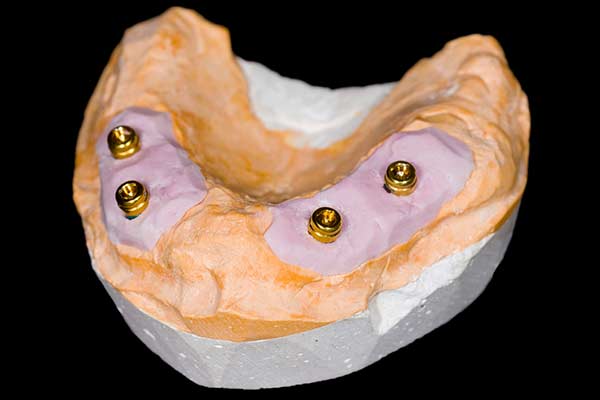 ---
Full Arch Restoration allows patients who are missing all of their upper or lower teeth to replace a full arch of teeth using precisely placed implants as "anchors".
This technique offers many advantages over traditional dentures.
This solution can simulate the look and feel of natural teeth and is easy to care for. The arch stays fixed in place with the implants acting as anchors. Patients will not experience the typical rocking and movement or gum irritation associated with dentures. With an implant supported full arch, there is no plate covering the roof of the mouth, so speaking and eating are more natural and comfortable than with a traditional denture.
Patients can often leave the same day with a full arch of teeth, reducing both overall cost and healing time.
Dental implant placement can help alleviate the sunken look that can occur with bone loss in the jaw by stimulating bone growth in the area around the implant. This process is called osseointegration and can also help prevent future bone loss.
---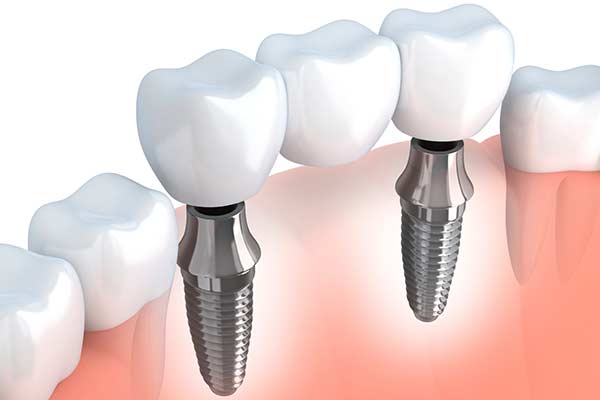 ---
An implant supported bridge is a restorative solution for spaces where three or more adjacent teeth are missing. The bridge replaces multiple adjacent missing teeth without the use of a denture. This restoration typically requires two implants to support the porcelain bridge. The bridge provides a functional and aesthetic replacement for the patient's natural teeth.
---
Implant Supported Dentures (Removable)
---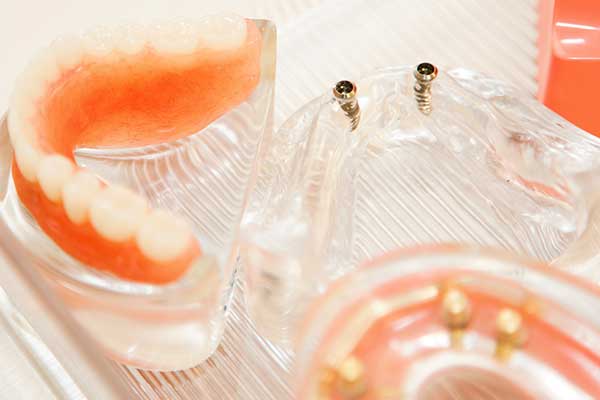 ---
Implant supported dentures can be either fixed or removable. This solution requires the placement of two or more implants. If a removable denture is selected, the denture will "snap" on to the implant rather than requiring the use of denture paste or adhesives. Removable dentures can be taken out for cleaning at night.
---
Completely Endentulous Upper Jaw
---
There are approximately 12 million Americans who have both upper and lower jaws without any teeth and approximately 36 million who are completely edentulous (missing all teeth) in either their upper or their lower jaw.  For these patients implants can be a beautiful, healthy, and functional solution. Treatment of the edentulous jaw can be accomplished with either a fixed or a removable solution.
Bone Grafting and Implants
---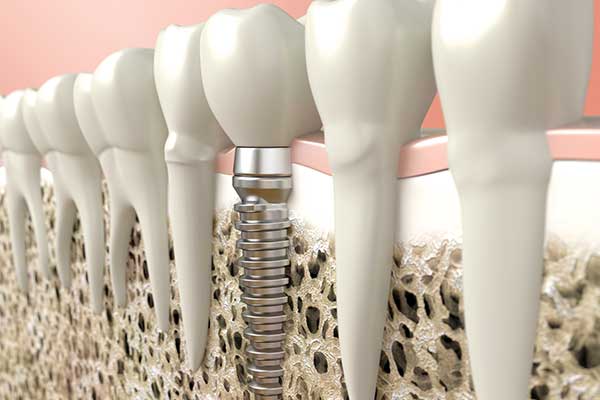 ---
Some patients don't have enough bone to sustain conventional implant therapy. These patients can choose either a grafting or a non-grafting solution. Bone grafting is the replacement or enhancement of bone around teeth.
When a tooth is lost, the surrounding bone collapses.  Bone grafting is performed to reverse bone loss or enhance bone.  The grafting solution involves obtaining bone locally from the patient's jaws or from other areas such as the tibia or the hip. Other options include the use of bioengineered bone, bone morphogenic protein or synthetic material. Bone grafting allows for proper support of dental implants or prostheses. Depending upon the bone source and site, healing can take anywhere from 4 months to 8 months to mature. Once the bone graft has matured, the implants can be placed in preparation for the final restoration. The complete treatment time for bone grafting, healing, implant placement and final restoration is usually at least 12 to 18 months.
---
The graftless option for assisting patients with inadequate bone involves using a zygoma implant. The zygoma implant is used to bypass the atrophic bone (little bone) to engage the zygoma (cheekbone) where there is adequate bone to anchor a full arch upper jaw prosthesis. This can be performed to allow an immediate load so that a patient can leave the office with teeth connected onto the implants the same day of therapy, allowing them to complete the final restoration and return to their quality of life in a more expedited fashion.
NYCOMS has performed this procedure for many patients and we have a proven record of enhanced quality of outcome for many patients over the years.
---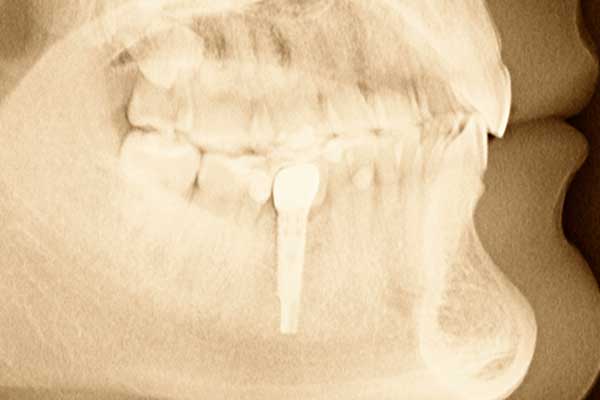 ---
NYCOMS doctors are specially trained to provide guided implant placement for our patients using CBCT scans and restorative virtual treatment planning.
Doctors use a virtual 3-D model or a physical model to simulate needed implant placements and the following restorative work, and create an ideal patient treatment plan. These virtual plans allow the doctor to take multiple aspects of implant placement and restoration into consideration, resulting in optimal aesthetics, function, and longevity for the patient's final restoration. Working with a 3-D model also allows the patient to better understand the procedures and visualize the end result.
Once planning is complete, specialized software can be used to create a surgical guide for use during implant placement. This guide directs the exact location, angle and depth of the implant placement. The use of the guide increases the accuracy, efficiency, safety and predictability of the procedure.
---